Prof. Jigoro Kano
Founder of Kodokan Judo




​​​​​Class Schedule:
Fee Structure:
CLICK HERE
Tuesdays & Thursdays: kids -- 6:15 p.m. to 7:15 p.m. ​
Tuesdays & Thursdays: Teens/Adults -- 7:30 p.m. to 9:00 p.m.​
Friday (Competition Training) -- 5:30 p.m. to 7:00 p.m.
​S
aturday (Open Mat Practice) ​-- 10:00 a.m. to 11:30 a.m.

​​ ​
Location &
Contact:​​​

​Dimond Center Mall (RM 3-203 2nd floor)
800 E Dimond Blvd. Anchorage
​Alaska, 99515​
(907) 947-4988
david@mountainviewjudo.com
MVJ BULLETIN BOARD - CURRENT NEWS & INFO . ​If you have MVJ Judo news or any Judo info. of interest that you would like to be displayed on our website just email the information to davidcheverie@yahoo.com
Judo - The Olympic Sport


Competition Judo
Judo - Nage No Kata


One of many Katas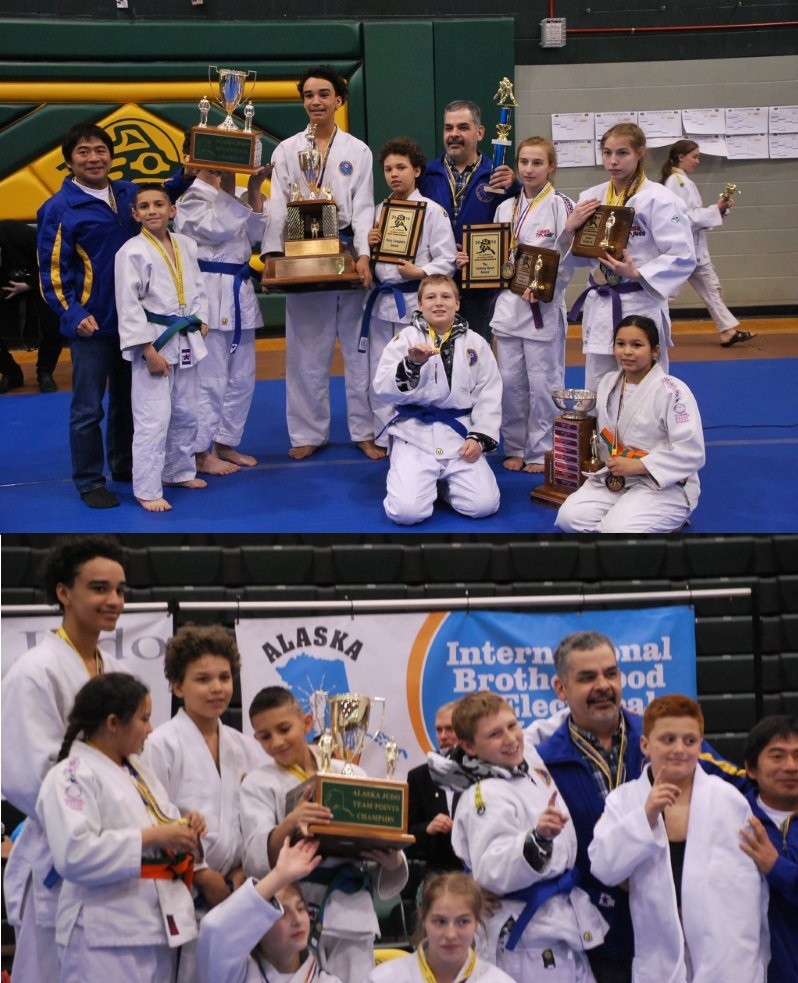 2016 Alaska State Judo Championship - MVJ Results


​Rod Harvey IV 2nd. U7 Bantam 1 -46
Mikayla Juvan 5th. U9 Bantam 2 -55
Liam Juvan. 3rd. U9 Bantam 2 -66
Olijah Armstrong 2nd. U11 Intermediate 1 male. -70
Landon Shooshanian 2nd. U13 Intermediate 2 male -114
Abbi Bridge 3rd. U13 Inter 2 female -114
Gavin Mellon. 4th. U15 Juv A male -128
Garrett Gaydos. 3rd. U15 Juv A male -128
Carl Maligodi. 1st. U15 Juv A male -128
Garyn Kelso. 3rd. U15 Juv A male +141
Logan Juvan. 2nd. U15 Juv A male+141
Abagail Harvey. 1st. U18 Juv B female -114
Mackenzie Harvey 2nd. U18 Juv B female -139
Dorian Mellon. 1st. U18 Juv B male -178
Mackenzie Harvey 1st. Senior female -121
Trevor Grogan. 2nd. Senior male -220
Trevor Grogan. 2nd. Masters open weight
Nage No Kata. 1st. Abagail Harvey, Mackenzie Harvey.
Fukuda cup 1st. Abbi Bridge, Abagail Harvey, Mackenzie Harvey
Saito cup. 2nd. Olijah Armstrong, Gavin Mellon, Carl Maligodi, Dorian Mellon
Trevor Grogan. Males best technique
Logan Juvan. Bill Tinney Judo "fighting spirit" award
Abagail Harvey. Lindsay Hurst Award.
Dorian Mellon. Ricky Caqueria Award.
Landon Shooshanian. MVJ obi award
Last but not least. Alaska Team Points Championship.
Regular classes start on August 30th
Kids 6:15 p.m. to 7:15 p.m.​
Teens/Adults: 7:30p.m. to 9:00 p.m.​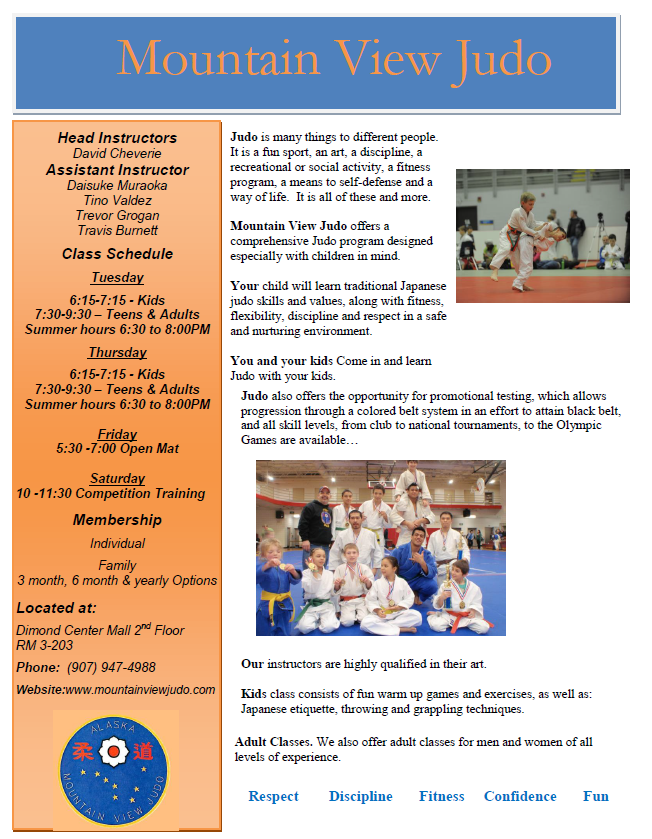 July 2 & 3 2016 - A big Congrats to Abagail and Mackenzie Harvey for placing second in the Youth Nage-No- Kata competition at the USJF/JA Nationals in Irvine California. Great Job Girls!!!!
We had five Athletes represent us two weeks ago at the USJF/JA Summer Nationals. We are again proud to have two more MVJ Athletes represent us in the upcoming 2016 Junior US Open in Fort Lauderdale, Florida on July 23rd weekend.

Last year Dorian Mellon placed third in the Juv A +64KG division and he also placed second in the Golden Score Competition. This year he is moving up an age division and we are hoping he can repeat his performance of last year.

Gavin Mellon is looking to get back on the podium on the National scene after placing 3rd at the USJF/JA Winter Nationals but missing out at the USJF/JA Summer Nationals.

Also a big thanks to the parents of all our Athletes that support their kids and our athletes that represent us locally, nationally and sometimes internationally.

Go get them Dorian and Gavin!!!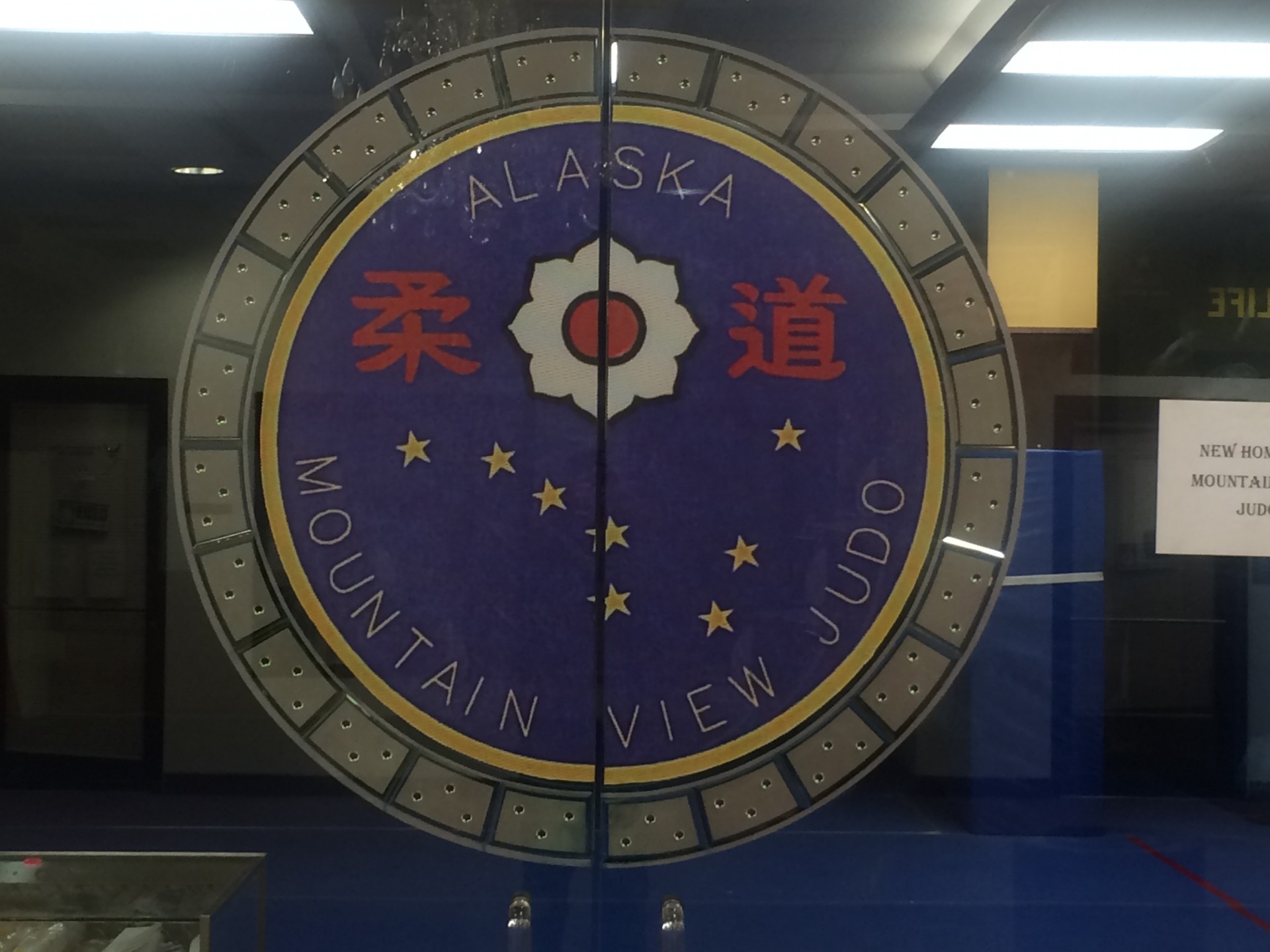 We have moved.!!
​
​Same Dimond Mall but now in Room 3-203.

​​​A big thanks to all the Parents and Judoka that help us move over the July 4th long weekend and the weekend before. We are back to training Tue, Thur, Fri and Sat. We are having good turnouts this summer so come and be a part of it.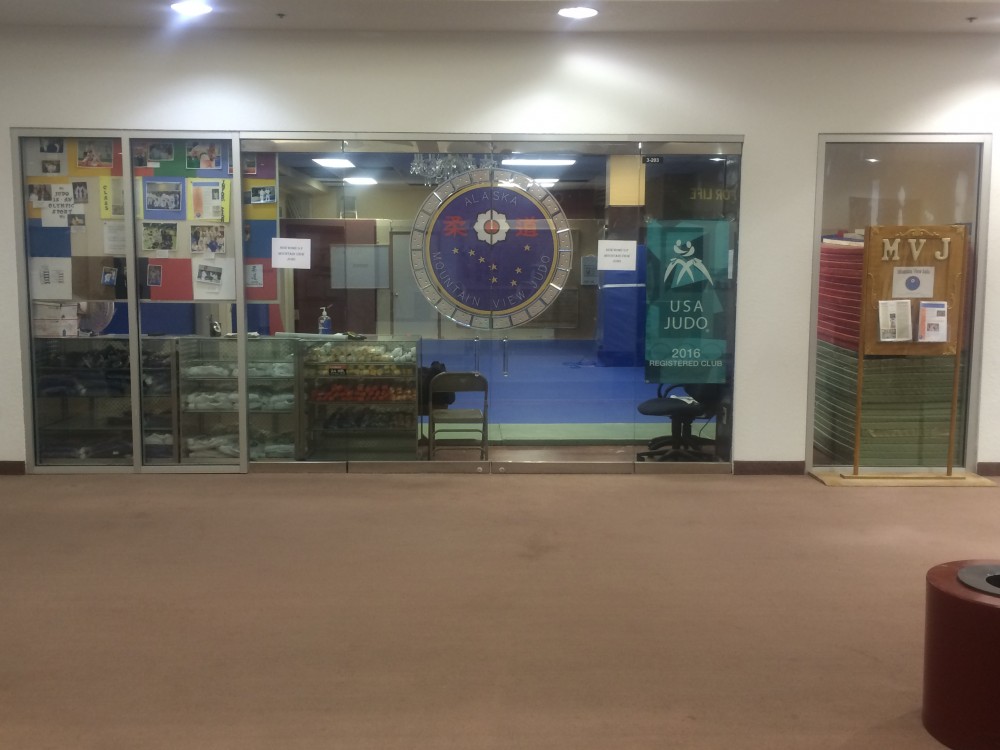 October 8th. The 11th Annual Creepy Crawly NeWaza Tournament has been set for October 8th at Greatland Martial Arts in Eagle River.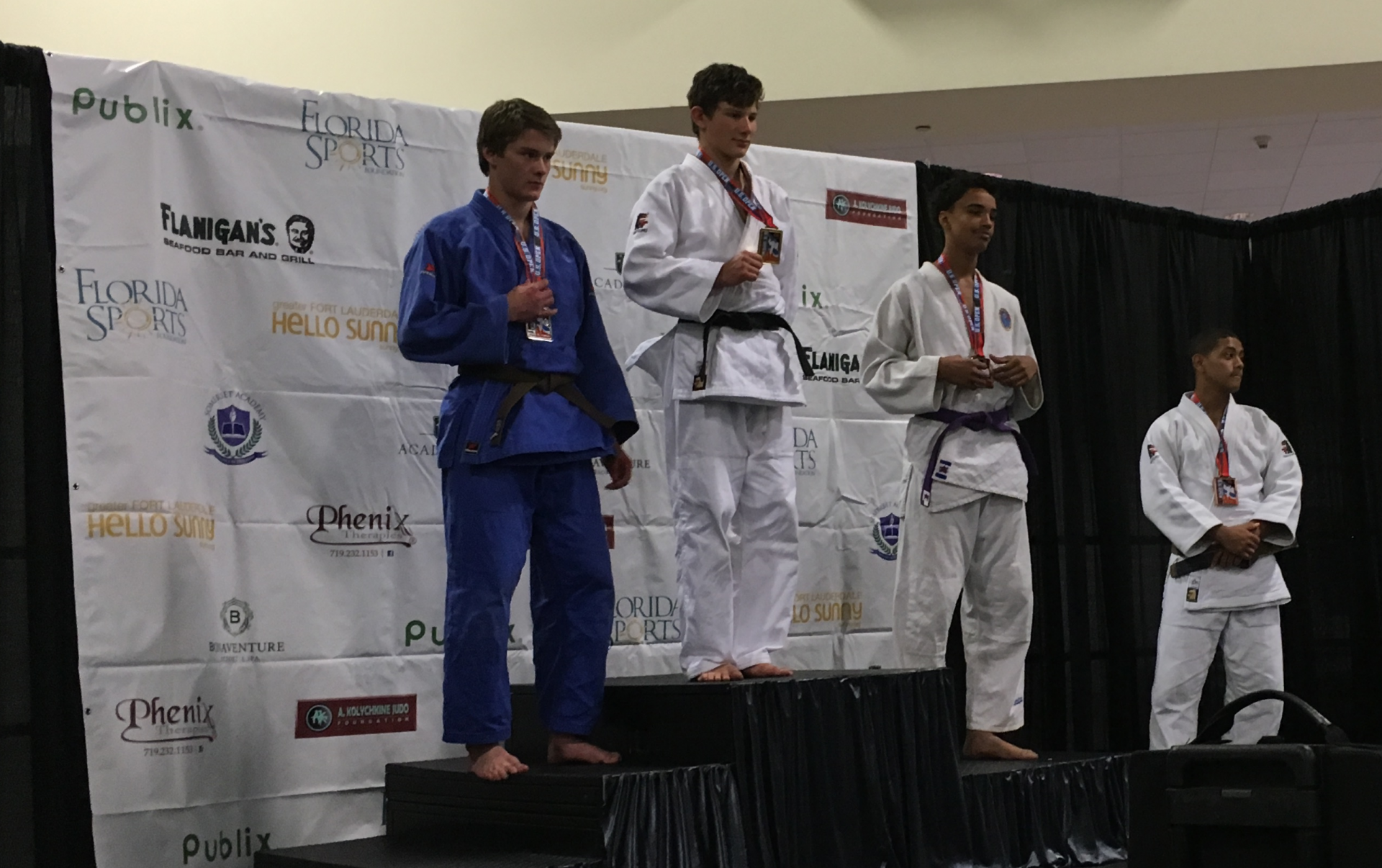 Congrats to Dorian Mellon for placing third in the Juvenile B -81kg division at the 2016 Jr. US Open. Gavin Mellon also fought but did not place. Way to represent the club guys.
Four Alaska Judoka make USA Judo Ranking List as of July 24th 2016
​
Josh Brown - 4th -66kgs Senior Male – Matsu Judo Club (Training at the Olympic Training Center in Colorado Springs)
​
Cody Weldon - 4th -100 kgs - IJF Junior Male 1996-2001 – Capital City Judo Club, Juneau
​
Abagail Harvey - 3rd -44kgs Juvenile B (Cadet) Female 15-17 years old Born 1999-2001- Mountain View Judo Club, Anchorage
​
Dorian Mellon - 9th Juvenile B (Cadet) Male 15-17 years old Born 1999-2001 - Mountain View Judo Club, Anchorage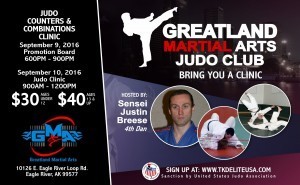 September 10th. Counters and Combinations Clinic:
​
If you would like to increase the frequency with which you are able to throw your opponent and counter their attacks, this clinic is a great opportunity for you. Sensei Justin Breese has many years of competitive experience, and is still competing nationally. He is the head instructor at Black Bear Judo in Ketchikan, Alaska. He started Judo in 1981 and has been actively practicing and instructing ever since. In 2008 Sensei Breese formed the non-profit Black Bear Judo club which supports Judo in Ketchikan and funds Judo travel to give his students additional Judo opportunities. He is also the current organizer of Camp Bushido, a week long camp held annually in California. Sensei Breese has a passion for Judo and visits many clubs during his travels. He is a 4th Degree Black Belt in Judo, a Certified Rank Examiner, and a Certified Coaching Instructor.
Click here for Registration form.

Saturday August 27th. Club meeting at 10:00am at the Dojo, to discuss upcoming competition season.

Saturday September 3rd. We will be having a Fall Registration from 9am to 10am just before Open Mat Practice.

Fliers have been posted in a bunch of schools and if you get a friend to sign up you will receive a free gift. See poster in Dojo


October 29th. Continental Crown, Seattle WA. More info to follow as it come in. Stay tuned. We will be sending a team.