Prof. Jigoro Kano
Founder of Kodokan Judo




​​​​​Class Schedule: Club Membership
Fee Structure:
CLICK HERE
Tuesdays & Thursdays: kids -- 6:15 p.m. to 7:15 p.m. ​
Tuesdays & Thursdays: Teens/Adults -- 7:30 p.m. to 9:00 p.m.​
Friday (Competition Training) -- 5:30 p.m. to 7:00 p.m.
​S
aturday (Open Mat Practice) ​-- 10:00 a.m. to 11:30 a.m.

​​ ​
Location &
Contact:​​​

​Dimond Center Mall (RM 3-203 2nd floor)
800 E Dimond Blvd. Anchorage
​Alaska, 99515​
(907) 947-4988
david@mountainviewjudo.com
MVJ BULLETIN BOARD - CURRENT NEWS & INFO . ​If you have MVJ Judo news or any Judo info. of interest that you would like to be displayed on our website just email the information to davidcheverie@yahoo.com
Judo - The Olympic Sport


Competition Judo
Judo - Nage No Kata


One of many Katas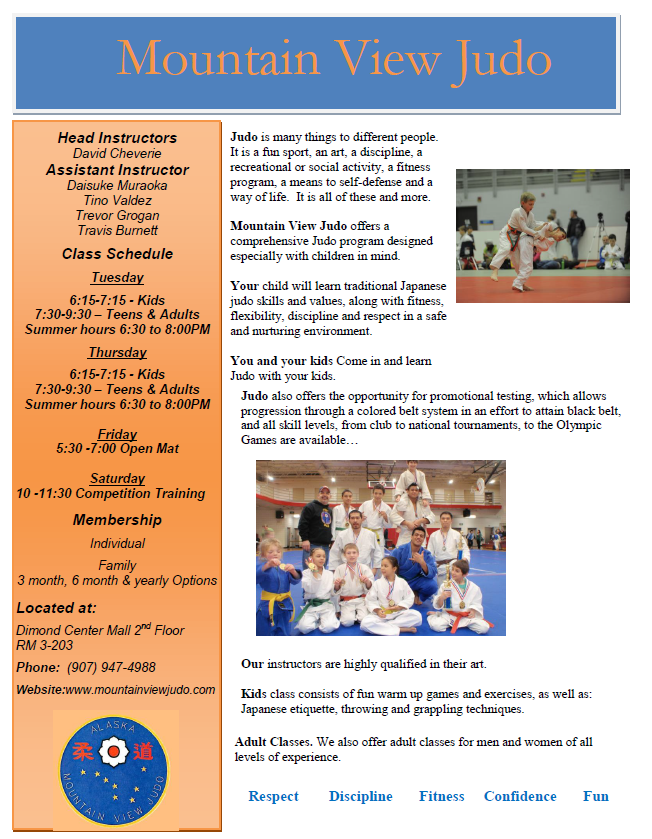 July 2 & 3 2016 - A big Congrats to Abagail and Mackenzie Harvey for placing second in the Youth Nage-No- Kata competition at the USJF/JA Nationals in Irvine California. Great Job Girls!!!!
We had five Athletes represent us two weeks ago at the USJF/JA Summer Nationals. We are again proud to have two more MVJ Athletes represent us in the upcoming 2016 Junior US Open in Fort Lauderdale, Florida on July 23rd weekend.

Last year Dorian Mellon placed third in the Juv A +64KG division and he also placed second in the Golden Score Competition. This year he is moving up an age division and we are hoping he can repeat his performance of last year.

Gavin Mellon is looking to get back on the podium on the National scene after placing 3rd at the USJF/JA Winter Nationals but missing out at the USJF/JA Summer Nationals.

Also a big thanks to the parents of all our Athletes that support their kids and our athletes that represent us locally, nationally and sometimes internationally.

Go get them Dorian and Gavin!!!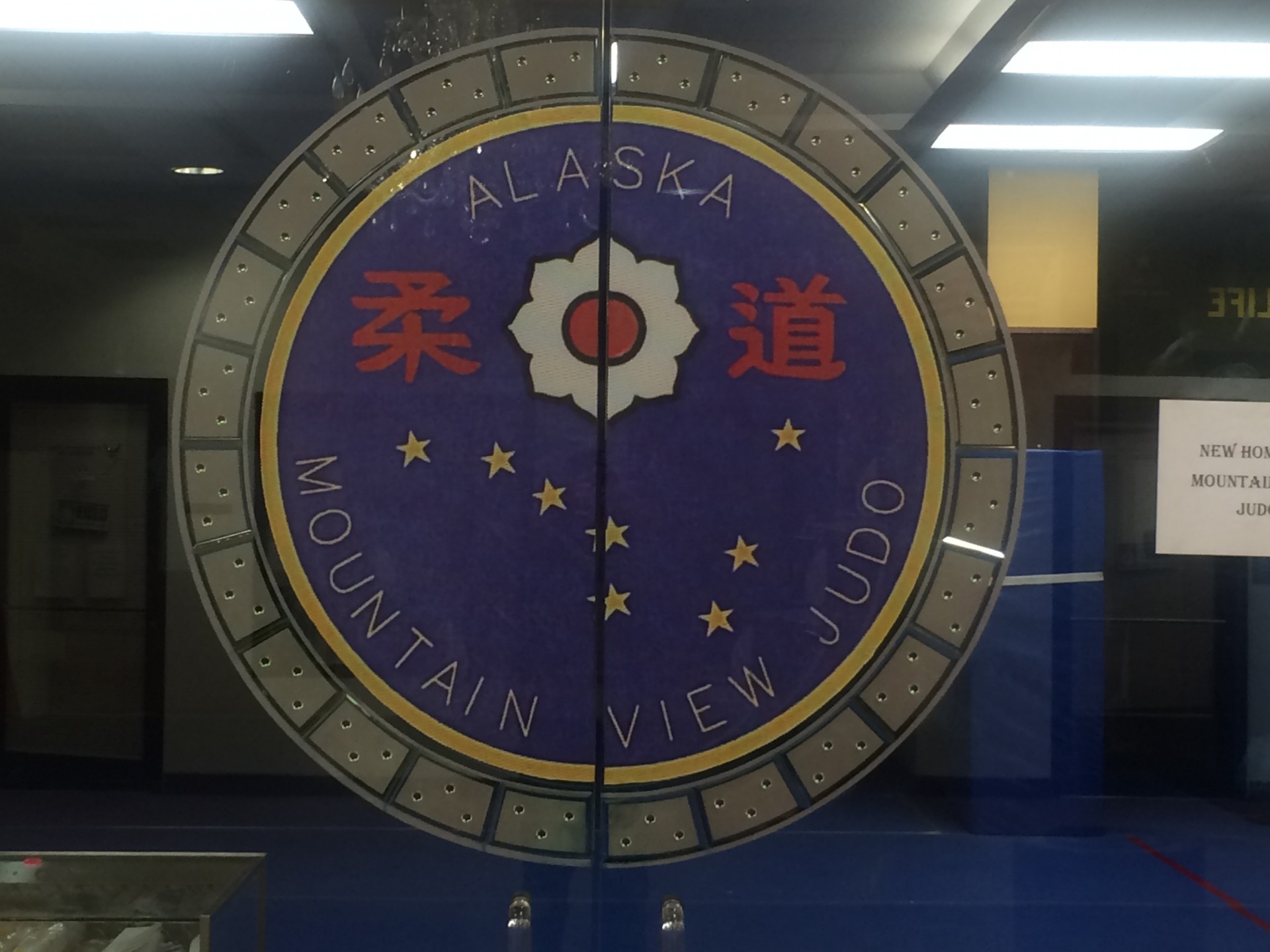 We have moved.!!
​
​Same Dimond Mall but now in Room 3-203.

​​​A big thanks to all the Parents and Judoka that help us move over the July 4th long weekend and the weekend before. We are back to training Tue, Thur, Fri and Sat. We are having good turnouts this summer so come and be a part of it.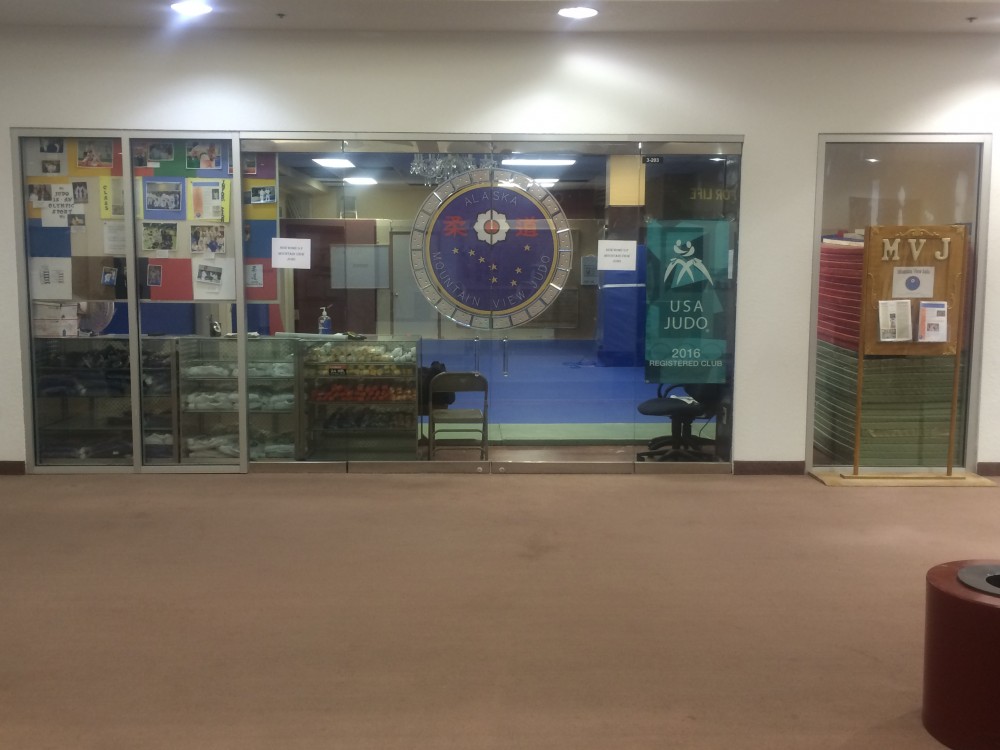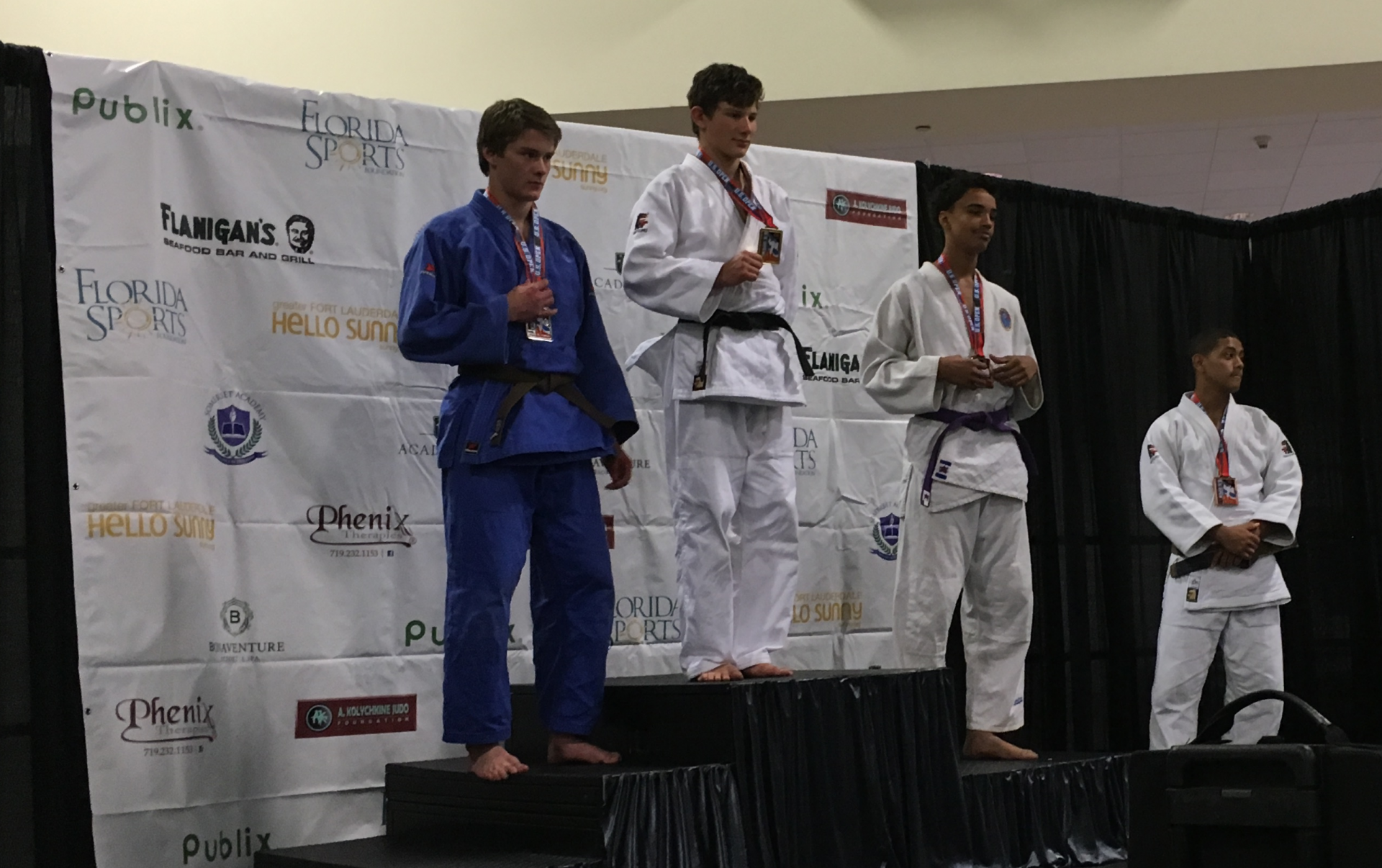 Congrats to Dorian Mellon for placing third in the Juvenile B -81kg division at the 2016 Jr. US Open. Gavin Mellon also fought but did not place. Way to represent the club guys.
Four Alaska Judoka make USA Judo Ranking List as of July 24th 2016
​
Josh Brown - 4th -66kgs Senior Male – Matsu Judo Club (Training at the Olympic Training Center in Colorado Springs)
​
Cody Weldon - 4th -100 kgs - IJF Junior Male 1996-2001 – Capital City Judo Club, Juneau
​
Abagail Harvey - 3rd -44kgs Juvenile B (Cadet) Female 15-17 years old Born 1999-2001- Mountain View Judo Club, Anchorage
​
Dorian Mellon - 9th Juvenile B (Cadet) Male 15-17 years old Born 1999-2001 - Mountain View Judo Club, Anchorage

October 29th. Continental Crown, Seattle WA. More info to follow as it come in. Stay tuned. We will be sending a team.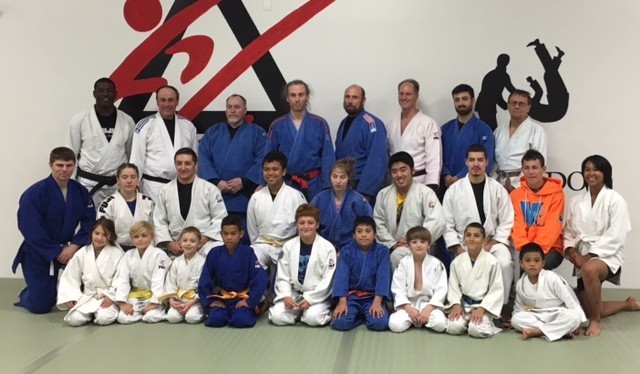 MVJ, fields a large team at the Great Land Martial Arts Judo Clinic with Guest Instructor Justin Breese.
​A big thanks to Rod Jr., Liam, Logan, Olijah, Jace, Landon, Mackenzie, Abagail, Max, Trevor and Dave for attending and representing MVJ.
​Also a big thanks to the parents for bringing the team to the Clinic.
What: Board of Directors Meeting


When: Sunday Oct. 9th 1:00 PM
Where: AMC Engineers conference room (701 E Tudor Rd #250, Anchorage, AK 99503)
Why: To Grow and Improve Judo in Alaska
Who: Anyone who would like to be involved in growing and improving Judo
Alaskla Judo Inc. Grading:


Friday, October 7th 6:30pm at Anchorage Dojo.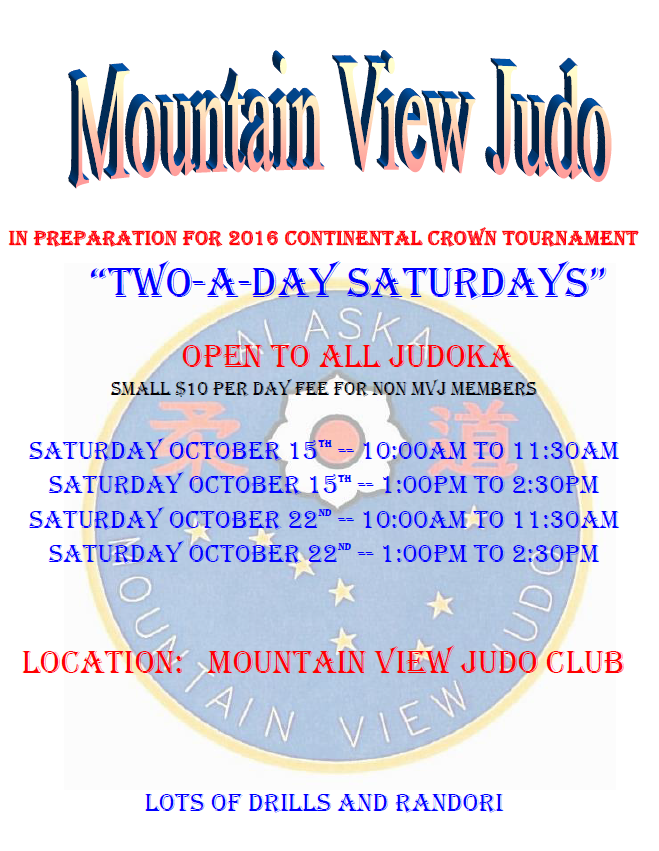 ​​​​​​​​​​​​​​​​​​​

Two-A-Day Saturdays training camps in preperation for the Continental Crown.

Click here for Flyer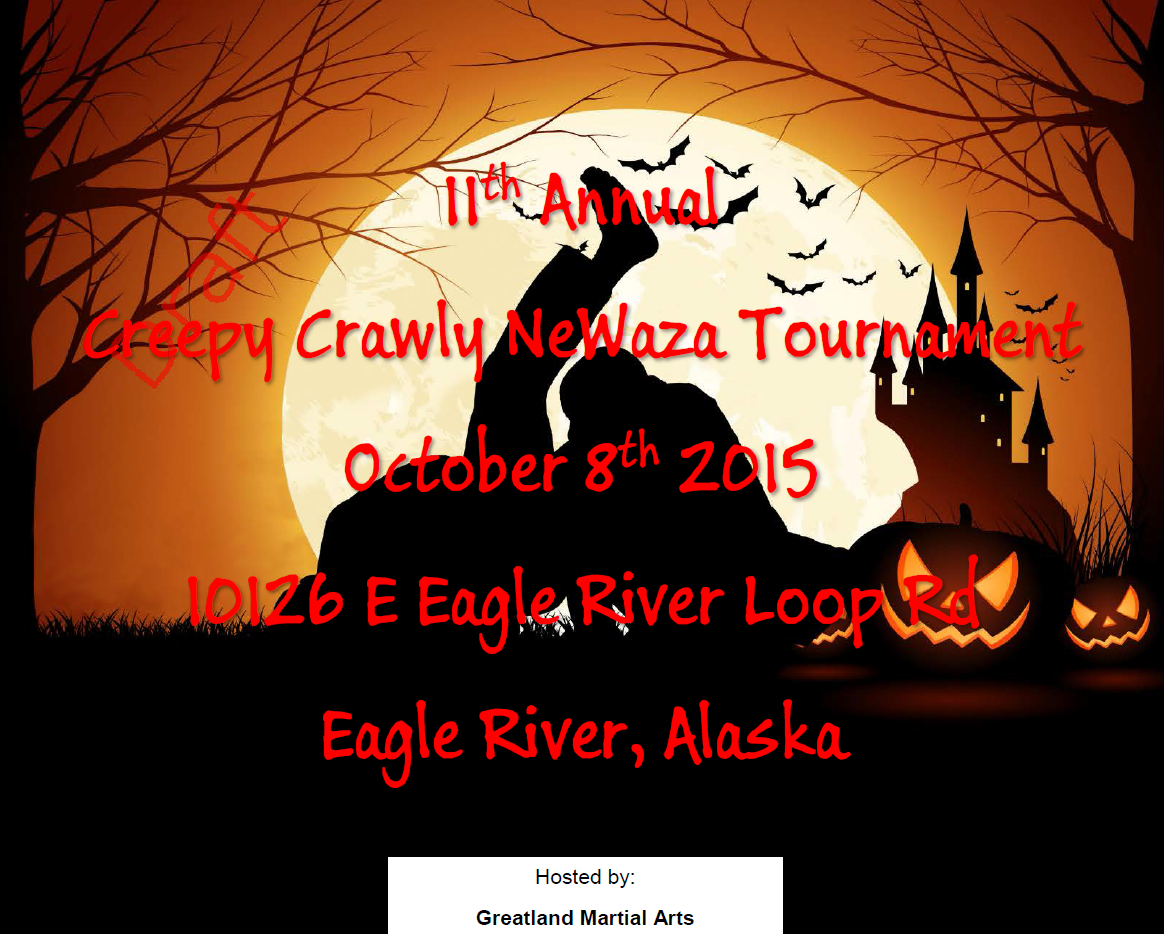 October 8th. The 11th Annual Creepy Crawly NeWaza Tournament has been set for October 8th at Greatland Martial Arts in Eagle River.
Link to tournament website​​
November 19th. MatSu Judo Tournament
​Stay tuned. We will be sending a team.
Mountain View Judo Club raises $500 to help support Dorian Mellon and the South High School Wrestling.